MARKETING NEWS
Looking for resources to help build your marketing knowledge base? Here's what you need to know!
Marketing Challenges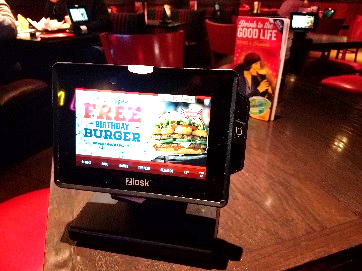 Why is it so hard to pay for a good meal?
03/03/2017
Recently, I met a business associate for lunch at a Red Robin restaurant. My burger was delicious, the fries were hot, and the service attentive. Yet I'm not sure I'll go back. Why? Because Red Robin has introduced tabletop payment-registers that require me to swipe my credit card, enter a tip, and print a receipt --all without direction or the waiter's help. That is, until the machine didn't take my card. Then I had to track down the waiter who couldn't make it work either. A pleasant and productive business lunch turned into a frustrating and disappointing experience. Frankly, I felt cheated of my time. And I was sorry for the waiter who had been cheated of his opportunity to give great service and earn better tips.
Rest assured that I'm not making a typical consumer complaint but rather pointing out a gap where marketers fail. The table-top register makes perfect sense from a traditional marketing point-of-view: its screen displays advertisements, interactive games for the kids, and tries to help customers. Red Robin's intentions are probably good.
Yet for all the thoughtful work that the marketers at Red Robin have done, they abandoned me at a critical moment. Once I decided to make a purchase -order and eat a hamburger- they thought their job was over. If it's cheaper to retain a customer than acquire a new one, then why wouldn't a good marketer want to make the whole purchase experience as easy and enjoyable as possible? Why introduce misgivings at any stage?
Amazon is recognizing this gap. They've recently experimented with a new physical store concept that turns traditional in-person shopping on its head. As a customer enters the store, they engage the Amazon Go app on their phone. As they shop, the item is added to their account and they simply walk out the store with their purchase. Amazon is making the buying action as simple and seamless as possible. And the early reviews are positive. Of course, Amazon is collecting buyer behavior data at the same time which is extremely valuable in and of itself.
Sears seems to have put the cart before the horse with its focus on customer data. According to Business Insider, CEO Edward Lampert has prioritized the Shop Your Way rewards program above all else. A big problem is that Shop You Way slows down the buying process at checkout. Cashiers report that their scan rate of 12 items per minute has plummeted to 4 with resulting longer lines, frustrated customers, and abandoned carts. With a focus on gathering data for financial enrichment rather than providing the customer with an easy purchase experience, Sears is driving away the lifeblood of their business.
Marketing is never done. No longer relegated to promoting sales, great marketing integrates itself into the entire customer experience from attention to information to purchasing to retention. Smart marketers pay special attention to making buying easy.
Want to learn more? As a Featured Speaker at MarketMix 2017, Brad Cochrane will be leading Five Steps to Creating Your Best Story. His book Story First Marketing: Moving Your Customers to Action is available on Amazon.
A Public Speaker, Author, and Communication Consultant, Brad can be reached at Story First Marketing or email him directly at brad@cochrane.net.