Empowering women to achieve marketing leadership through mentoring
January Luncheon
Empowering women to achieve marketing leadership through mentoring
---
Learn more about the powerful role of mentoring to help women in marketing achieve the highest level of marketing leadership.
For this luncheon, we'll be breaking away from the usual panel format to try a new approach that is both inspirational and participatory.
Hear a keynote presentation by Dr. Fariba Alamdari, Vice president, Customer and Partner Education at the Boeing Commercial Airplanes. She'll be expanding on her popular Tedx Seattle talk to discuss the impact mentoring had her career and the opportunity today's marketing leadership to help the next generation.
Table discussions moderated by some of Seattle's leading women marketing executives will follow. Learn what women - and men - can do to shatter the glass ceiling and leave with information you can apply to your own career.

Keynote Speaker: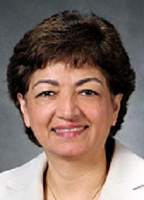 Dr. Fariba Alamdari
Vice president, Customer and Partner Education
The Boeing Company
Fariba is Vice president, Customer and Partner Education at the Boeing Commercial Airplanes since March 2018. Prior to this Fariba was BCA Vice President of Marketing. In 2006, she was recruited by Boeing from Cranfield University in the United Kingdom, where she served as chair of the university's Department of Air Transport, and Dean of the Faculty of Engineering, Manufacturing and Science.
Born in Tehran, Iran, Fariba is a strong advocate of diversity, and is a frequent speaker on the importance of diversity, and taking full responsibility for diversity and inclusion efforts. She did a Tedx talk on the "Power of Diversity" in 2017. She believes in a compassionate leadership style focused on achieving results based on trust and respect for all.
Fariba recipient of awards including: "Woman of the Year" by Air Transport News in 2016, "Ellis Island Medal of Honor" from The National Ethnic Coalition of Organizations (NECO) in 2016, "Leadership Award" from the Centre for Women & Democracy in 2015, the "Professional Achievement Award" from Women of Color in 2011, "Professional Practice Recognition Award" from State University of New York in 2010, and "Sorenson Best Paper Award" for the paper on "Marketing to Female Business Travellers".
Fariba received a PhD from Cranfield University in aviation economics, an honorary Doctor of Science, Honoris Causa in 2017, a Master degree in transport economics from Cranfield University and an undergraduate degree in politics and economics from the University of Social and Political Studies in Tehran. She is currently the chair of the Chancellor Advisory Board of University of Washington Bothell, Advisory Board member of Center for Leadership & Strategic Thinking, Foster School of Business, University of Washington and is a Visiting Professor at Cranfield University, UK. She has served on the board of the Boeing Leadership Development Excellence, NeighborCare Health, and British American Business Council in Washington State. Fariba resides in Bellevue, Washington with her husband, and has a son and a daughter.