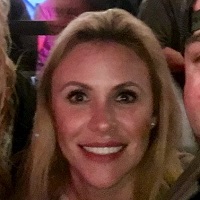 New Mentor Available:
Holmberg's Angela White

Wouldn't you love to be mentored by someone with experience in many industry settings who is flourishing in her dream job, managing a wide variety of marketing and business development responsibilities that capitalize on her skills in branding, communications, strategic marketing and relationship-building? That someone is Angela White, Marketing and Relationship Manager with Bellevue's Holmberg Mechanical.
A current AMAPS member who applies to the AMAPS mentor program will benefit from her perspectives in a six-month mentorship!
Angela's marketing experience over the last 10 years has spanned the health care, financial services and construction industries. Today, Angela creates and maintains her company's web site, plans events, builds business and evolves the company's culture, while developing successful customer relationships in the community. We asked Angela for some of her insights. They revealed the energy, positivity, and creative intuition she will bring to her mentee.
Q. What are some of the rarer skills that are important to have in marketing today?
A. An important skill for a marketer is to first, be open to criticism. It has not always been easy, but it's been very valuable to me to listen. Second, you must be a lifelong learner in marketing. Enroll in continuing education, read about marketing and be involved in AMAPS. Third, pay attention to what is happening in marketing in a variety of industries. I've found some of my best ideas in places I never thought I would! Finally, there is no substitute for being proactive. - Get out there and establish relationships!
Q. What opportunities are arising from changes in the marketing profession?
A. Marketing has felt as though it was for extroverts, with events, idea collaboration, etc. Now, with the ways social media marketing and graphic design have developed, a shy person can be very successful in marketing. - The industry feels more inclusive than ever before.
Q. Please describe how teamwork has made a difference in a key marketing initiative. What was the impact?
A. Teamwork is absolutely essential in creating a positive product which the whole team is proud of. Having a mastermind group where you can throw ideas around, feel safe to be silly, and know your team has your back, plays a huge role in creating new ideas. Each person brings their own set of skills and expertise to the team, so everyone has an opportunity to shine. For instance, I have seen how re-branding and expanding the culture of an organization can transform an excellent organization and company to something which is off the charts. When stakeholders work together towards a common goal, customers recognize the positive environment and the company's willingness to go the extra mile.
Are you going to be Angela White's mentee? Act quickly! Spend just a few minutes applying to the mentor program today.